KAFE PETROHRADSKA
is refreshing us with freshly brewed coffee since 2019.
Mon-Fri 9am-11pm
Sat-Sun 2pm-11pm
Tereza Vinklárková
Monika Rygálová ~
Both Bodies Clove

kurátoři: Noemi Purkrábková & Jiří Sirůček
10. 08. - 24. 08. 2020
Vstupné: dobrovolné
Entry: donation
10. 08. 2020
︎6pm Opening


Swallowing the darkish liquid
One click
Two sips
Taking you further
Warm blue fabric
Humming round your body
Mild clove flavor
Softening tips of fingers
Press & hold the button in the center of the screen

Is this as far as it goes?


~











Seděly proti sobě a klesající slunce vrhalo poskakující odlesky na prošívanou pokrývku. Jemný vzor se proplétal s paprsky ve světelné copánky. Ponořené do hry, nic nedbaly okolního šumu. Z ruky do ruky si soustředěně předávaly provázek. Žlutá guma natahovaná mezi prsty. Stisknout, provléct, napnout – minout, sklouznout, upustit. Závažná lehkost zrcadlení. Z ruky do ruky, z očí do očí, od ucha k uchu. Cyklické proměny figur v nepravidelném rytmu. První, druhá. Tam, zpátky. Zas a znovu. Tatáž a přece jiná gesta.



Stehy lehce otlačily kůži na holeních a zanechaly na ní klikatou stopu, jakoby jí prošla tenká jehla. Já, ty, ona, oni. Předat a přijmout. Jedna se zavrtěla, shlédla dolů na podušku a volnou rukou zapletla s elegancí do vzoru několik trčících vláken. Dříve nepatřičná, stala se naráz součástí struktury. A slunce zašlo. V bledých konturách měsíčního svitu bylo třeba pokračovat jen po hmatu. Level 3 – Dvě nebo tři dívky hrající předávanou. Překládat, párat, spojovat. Vidět, sdílet, poslouchat. S rostoucím chladem zalezly pod hřejivou tkaninu. Zachumlat se ruku v ruce. Noční obloha, vzdálené melodie a povídání před usnutím. Série obrazů za klížícíma se očima. První, druhá, třetí… Někdy se až zdá, že já je někdo jiný.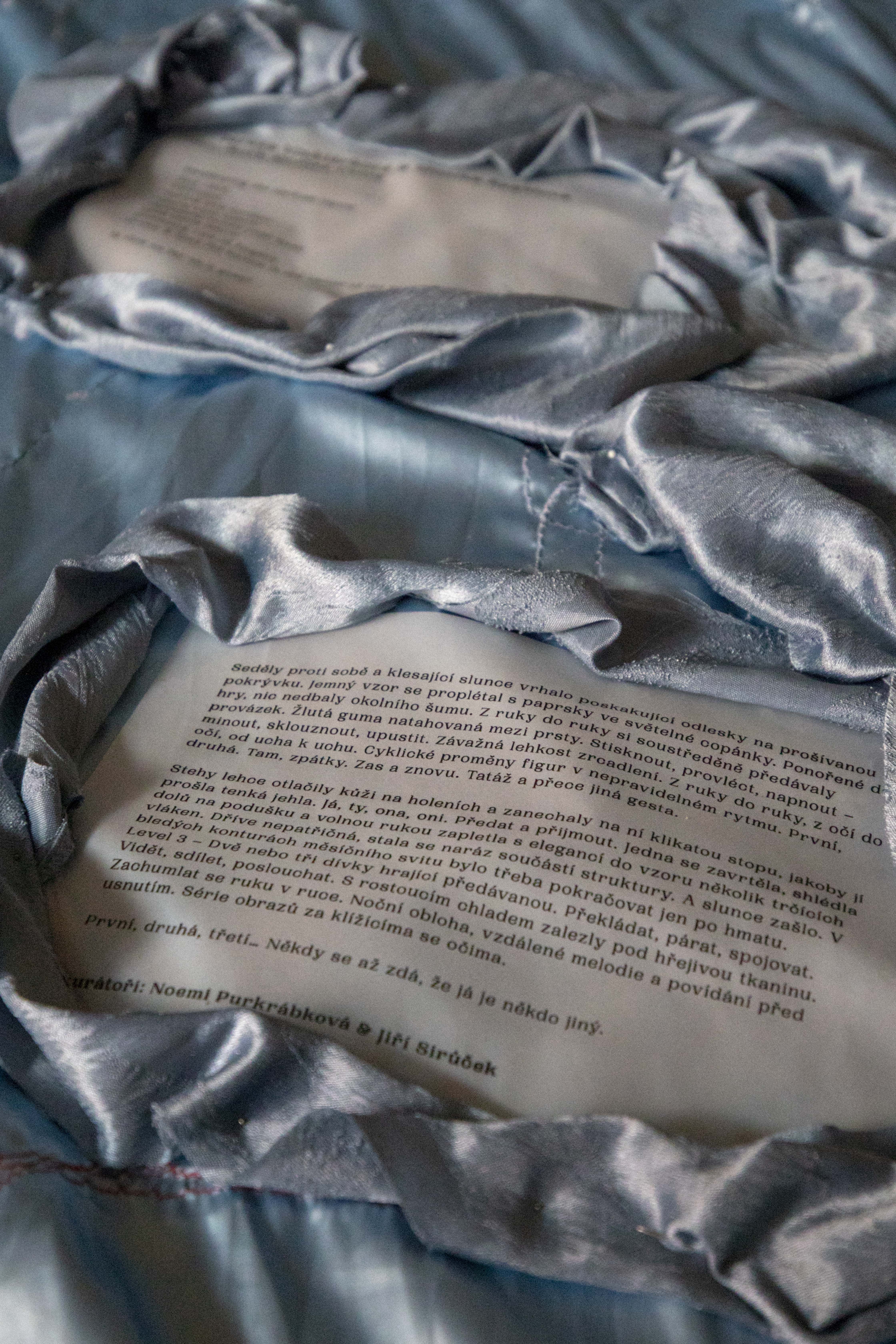 photo Markéta Slaná


---
Výstavní program Petrohradská kolektiv z.s. na rok 2020 byl podpořen Státním fondem kultury ČR, Magistrátem hlavního města Prahy a Městskou části Praha 10.

Exhibition program Petrohradská kolektiv z.s. is supported in 2020 by the State Fund of Culture of the Czech Republic, the City of Prague, and the City District of Prague 10.