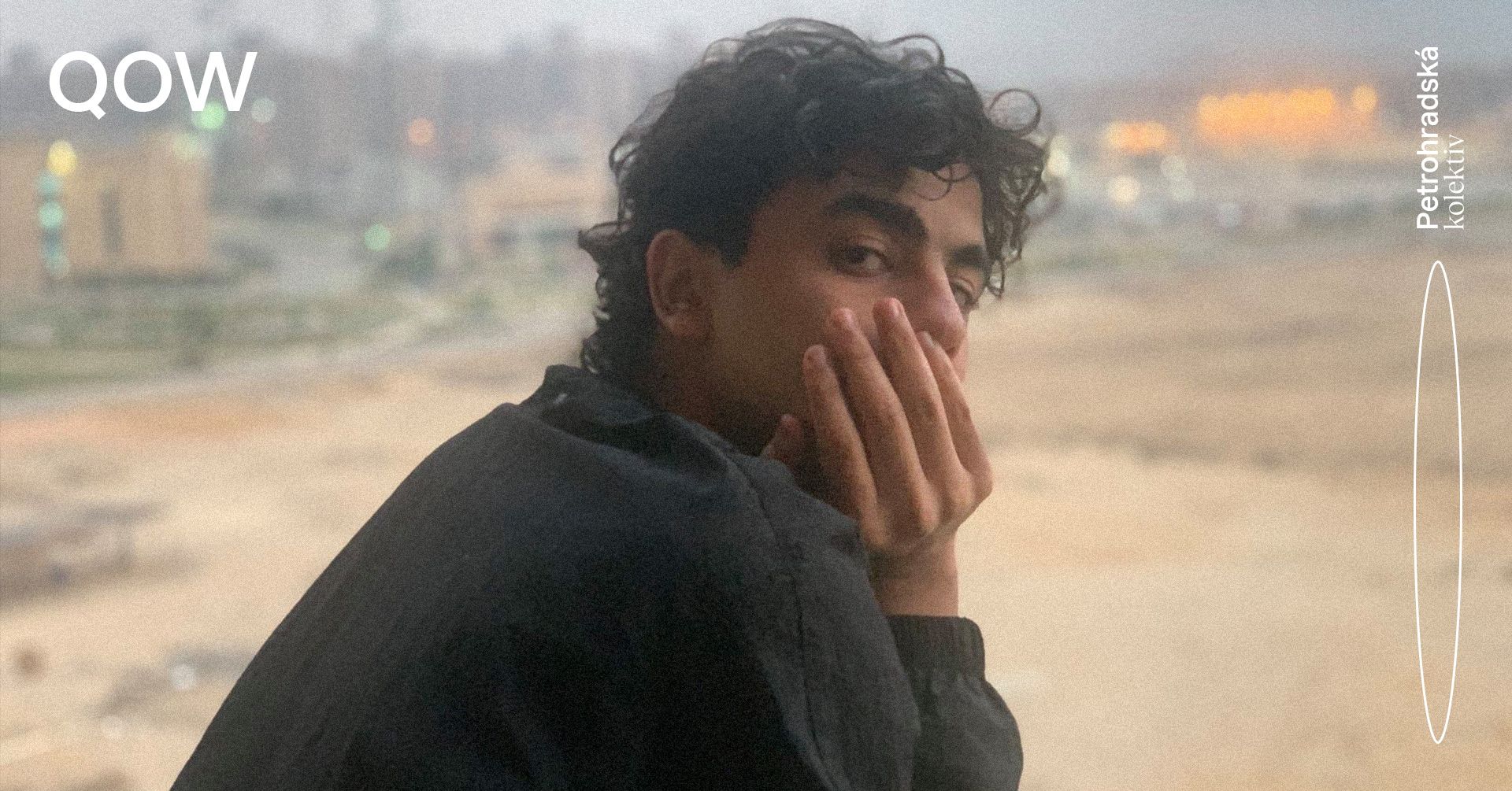 QOW
na dvorku Petrohradské
15. 07. 2021 19.30
Vstupné: dobrovolné
Entry: donation
QOW

Omar El Sadek is an audiovisual and inter-disciplinary artist specializing in electronic sound production and animated visuals. He's currently based in Prague, where he studies Fine Arts & Experimental Media. Omar's work and sound pieces focus mainly on experimenting with the fragile nature of his surroundings including himself. On the visual side, he takes a similar direction investing in the poetic beauty of imperfections, both visually and conceptually. This principle is mostly visible in his works with artists such as ZULI, MSYLMA, Drew McDowall, and Know V.A. Visual work has been exhibited at European audiovisual festivals such as the Unsound Festival in Krakow, and Lunchmeat Festival in Prague. Other works & commissioned soundtracks were for directors like Tahoun, Selim, different commercial clients, and independent short films like (House Of The Flying Architect), which was awarded the Best Overall Contribution medal in the 2018 London Biennale. His debut album Dawafer was released on the Prague label Genot Centre.

Summer in the courtyard at Petrohradská Kolektiv will be a showcase of live acts with the focus being on contemporary music production. We will present a broad variety of quality acts from the Czech alternative scene, ranging in genre from electronics, to pop, to country. Dramaturgy oversight will be handled by music producer, scenic and film music composer, and member of music promoters collective – Wrong- Mojmir Mechura.


QOW

Omar El Sadek aka QOW je audiovizuální a interdisciplinární umělec původem z Káhiry v Egyptě, zabývající se elektronickou hudbou a 3D animací. V současné době je usazený v Praze, kde studuje výtvarné umění a experimentální média. Omarův přístup v hudbě se zaměřuje hlavně na experimentování s křehkou povahou vlastního okolí včetně sebe samého. Ve vizuální práci využívá podobného přístupu a zkoumá poetickou krásu nedokonalostí, ať už vizuálně či konceptuálně.Vizuálně spolupracoval s hudebníky jako ZULI, MSYLMA, Know V.A. či s členem industriálních pionýrů Coil, Drew McDowallem. Omarovy vizuální práce byly součástí řady evropských festivalů jako Unsound v Krakowě nebo Lunchmeat v Praze. Omar také tvoří hudbu ke krátkým filmům, včetně House Of The Flying Architect, který byl oceněn na Londýnském Bienále v roce 2018. Své debutové album Dawafer vydal loni na pražském experimentálním labelu Genot Centre.


Léto na dvoře Petrohradská kolektiv s cyklem živých koncertů, se zaměřením na současnou hudební produkci. Má za cíl představit různorodost a kvalitu české alternativní scény napříč širokým žánrovým spektrem od elektroniky, přes pop až ke country. Dramaturgického vedení se zhostil již druhým rokem Mojmír Měchura, hudební producent, tvůrce scénické a filmové hudby a člen pražského kolektivu Wrong.


---
Hudební program v rámci živého umění Petrohradská kolektiv je podpořen v roce 2021 Ministerstvem kultury ČR,
Magistrátem hlavního města Prahy, Městské části Prahy 10.

Music performances as part of the Live art program of Petrohradská kolektiv are supported by the Ministry of Culture Czech Republic, Prague City Hall, Municipal part Prague 10.