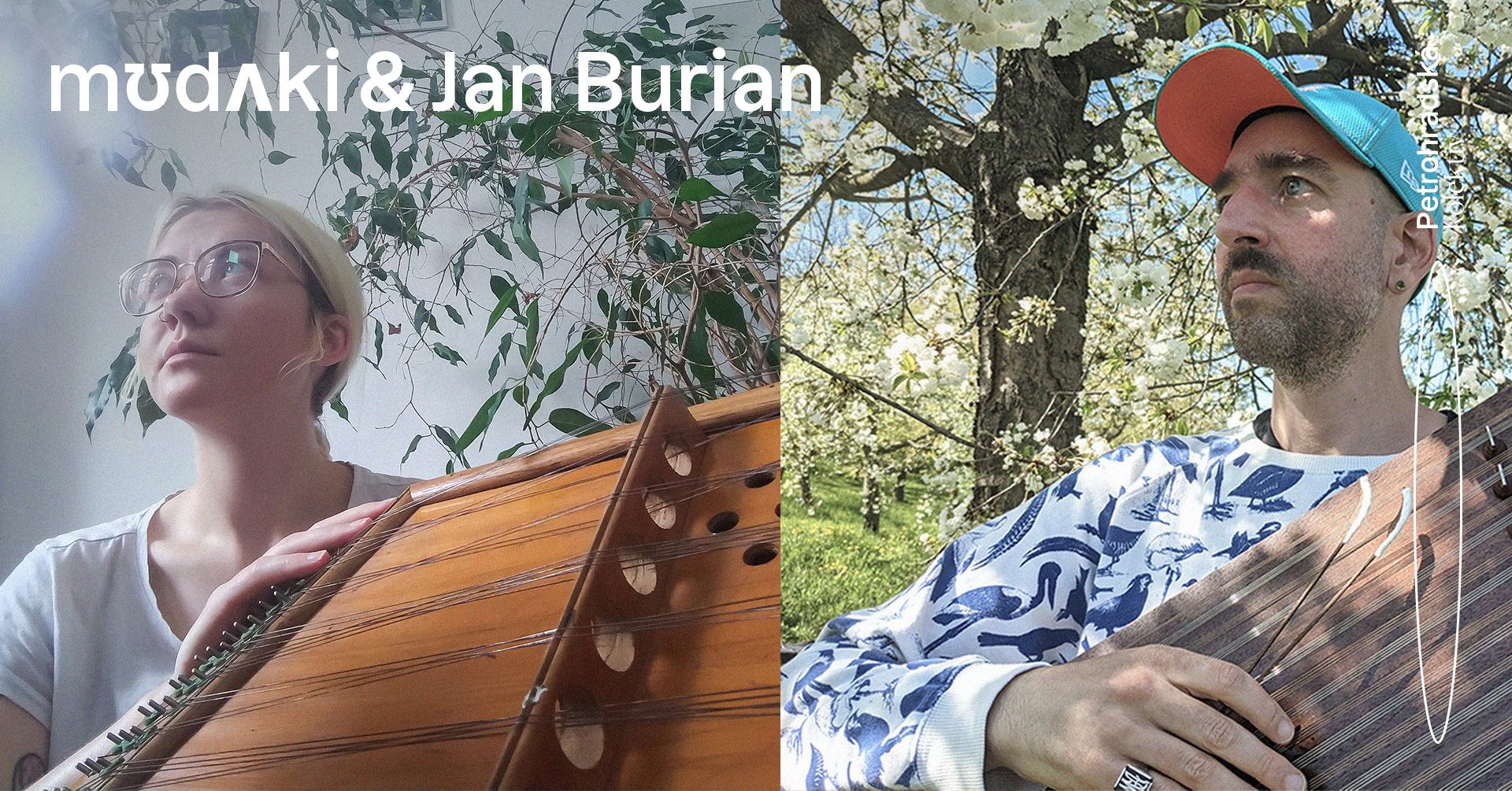 Mʊdʌki & Jan Burian
na dvorku Petrohradské

26. 07. 2022 19:30
Vstupné: dobrovolné
Entry: donation
Mʊdʌki and Jan Burian are well known artist on Czech experimental scene. First one, Polina Khatsenka aka Mʊdʌki is audiovisual artist, sound designer and sound curator originating from Minsk. Her work explores various aspects of sound with focus on audio performance and site-specific installations, but she is no stranger in club environment either, where she dwells into more dance oriented forms of electronic music. Jan Burian is composer of theatre and film music, sound designer and member of projects Tyto alba and Kyklos Galaktikos.

Summer and fall in the courtyard at Petrohradská Kolektiv will be a showcase of live acts with the focus being on contemporary music production. We will present a broad variety of quality acts from the Czech alternative scene, ranging in genre from electronics, to pop, to country. Dramaturgy oversight will be handled in the third year by music producer, scenic and film music composer and member of music promoters collective – Wrong- Mojmir Mechura. Also will be joined for the second time by composer and audiovisual artist Oliver Torr.
fb Mʊdʌki:

https://www.facebook.com/mudaki.san



fb Jan Burian:

https://www.facebook.com/BurianJen



ig Mʊdʌki :

https://www.instagram.com/mudaki_sound/?hl=cs



ig Jan Burian:

https://www.instagram.com/jan__burian/?hl=cs



Mʊdʌki i Jan Burian jsou výraznými postavami na české experimentální scéně. Prvně jmenovaná Polina Khatsenka aka Mʊdʌki je audiovizuální umělkyně, zvuková designérka a zvuková kurátorka pocházející z běloruského Minsku. Ve své práci se věnuje různým aspektům zvuku se zaměřením na audio performance a site-specific instalace, cizí jí ale není ani klubové prostředí, ve kterém proniká do tanečních odnoží elektronické hudby. Jan Burian je skladatel scénické a filmové hudby, zvukový designér a člen projektů Tyto alba a Kyklos Galaktikos.

Léto a podzim na dvoře Petrohradská kolektiv s cyklem živých koncertů, se zaměřením na současnou hudební produkci. Má za cíl představit různorodost a kvalitu české alternativní scény napříč širokým žánrovým spektrem od elektroniky, přes pop až ke country. Dramaturgického vedení se zhostil již třetím rokem Mojmír Měchura, hudební producent, tvůrce scénické a filmové hudby a člen pražského kolektivu Wrong, kterého již po druhé svým výběrem doplní hudební skladatel a audiovizuální umělec Oliver Torr.


---
Provoz kulturních aktivit Petrohradská kolektiv je v roce 2022 finančně podpořen Ministerstvem kultury ČR, Magistrátem hlavního města Prahy, a Městskou částí Prahy 10.

The production of the cultural activities of the Petrohradská kolektiv is financially supported in 2022 by the Ministry of Culture of the Czech Republic, Municipality of the City of Prague, and the Municipal District of Prague 10.