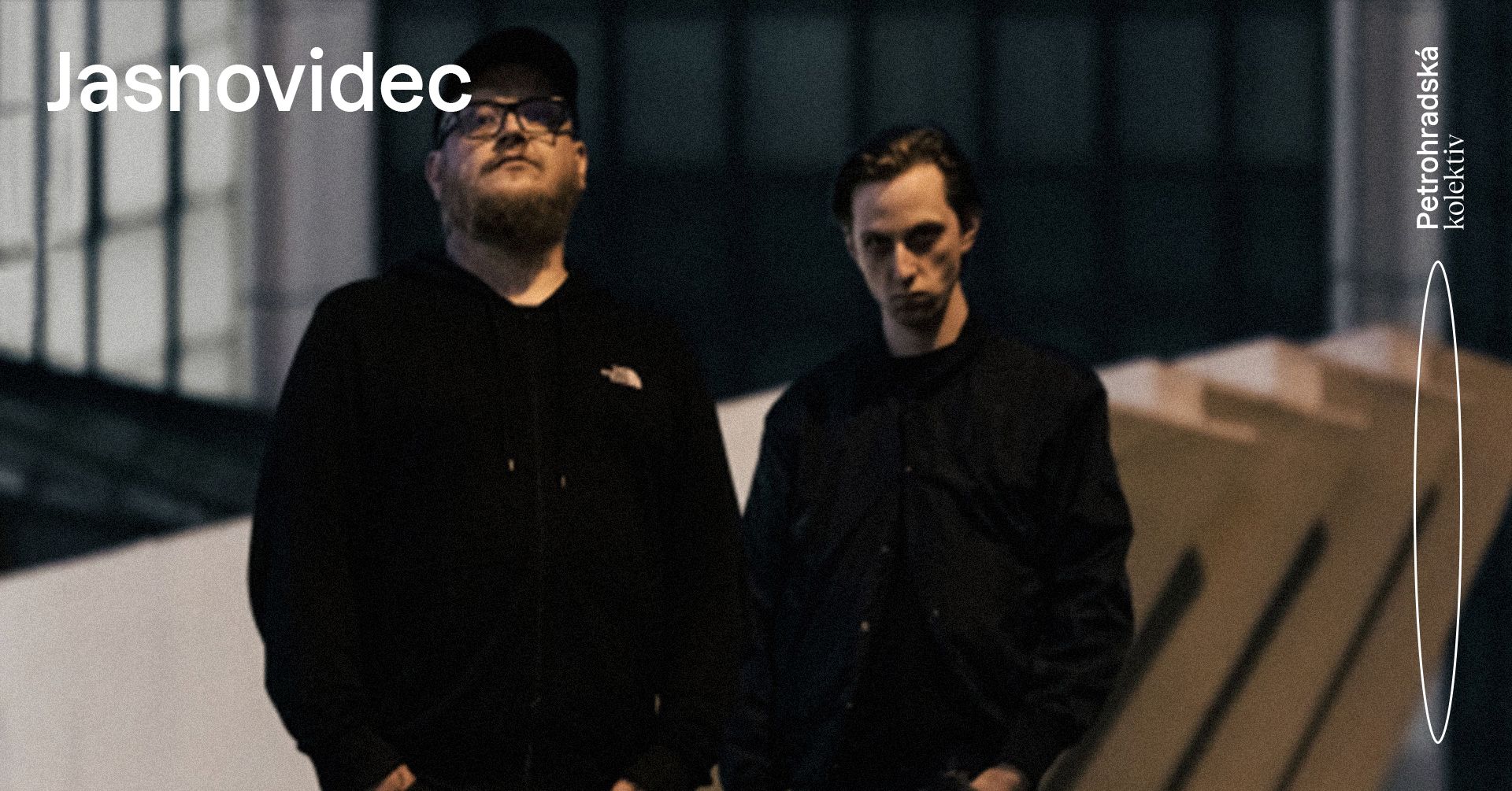 Jasnovidec
na dvorku Petrohradské
27. 07. 2021 19.30
Vstupné: dobrovolné
Entry: donation
Jasnovidec

Jasnovidec is project of Michael Nechvátal (Kult Masek) and Daniel Jakeš (Koroze). Both are integral figures of the Czech noise scene, even though they both tend to incline into more ambient
territory. They oscillate between two extremes during their live sets: from minimalistic ambient to exploding wall of noise. They presented themselves with their debut eponymous album on Stoned To Death label and their last recording is self-released double album Úvahy zvířete.

Summer in the courtyard at Petrohradská Kolektiv will be a showcase of live acts with the focus being on contemporary music production. We will present a broad variety of quality acts from the Czech alternative scene, ranging in genre from electronics, to pop, to country. Dramaturgy oversight will be handled by music producer, scenic and film music composer, and member of music promoters collective – Wrong- Mojmir Mechura.


Jasnovidec



Jasnovidec je společný projekt Michaela Nechvátala (Kult Masek) a Daniela Jakeše (Koroze). Oba zmínění jsou nedílnou součástí české hlukové scény, i přestože tíhnou více k ambientnějším polohám. V rámci svých improvizovaných setů pohybují v extrémních polohách od minimalistického ambientu až k výbušným hlukovým stěnám. Publiku se představili debutovou eponymní nahrávkou na labelu Stoned To Death a zatím jejich posledním počinem je vlastním nákladem vydaná dvoukazeta Úvahy zvířete.



Léto na dvoře Petrohradská kolektiv s cyklem živých koncertů, se zaměřením na současnou hudební produkci. Má za cíl představit různorodost a kvalitu české alternativní scény napříč širokým žánrovým spektrem od elektroniky, přes pop až ke country. Dramaturgického vedení se zhostil již druhým rokem Mojmír Měchura, hudební producent, tvůrce scénické a filmové hudby a člen pražského kolektivu Wrong.


---
Hudební program v rámci živého umění Petrohradská kolektiv je podpořen v roce 2021 Ministerstvem kultury ČR,
Magistrátem hlavního města Prahy, Městské části Prahy 10.

Music performances as part of the Live art program of Petrohradská kolektiv are supported by the Ministry of Culture Czech Republic, Prague City Hall, Municipal part Prague 10.