Nela Britaňáková ~
Orchids Get Headaches Too
kurátoři: Noemi Purkrábková & Jiří Sirůček

zvuk: Julie Lupačová

performance: Kristína Haviarová, Monika Kučerová, Eliška Sondej, Nela Britaňáková
video: David Přilučík
29. 06. - 13. 07. 2020
Vstupné: dobrovolné
Entry: donation
29. 06. 2020
︎6pm Opening
︎7pm Performance


Sometimes in the night I cannot sleep.
Everything moves too fast.
I dream about the skin of my petals
being touched by ruthless hands.
Seasons stopped making sense.
Once I'm drowning. Then comes the thirst.
Too many suns all around.
Spinning.
Why is the darkness not dark anymore?
Trembling sprouts.
My head hurts.

Can't we just stop for a while?





Drobná noha v nevhodně lesklém střevíčku sjela po kluzkém povrchu. Nahoře mezi vrcholky skal vzdáleně prosvítá šedavá inverzní obloha. Málo prošlapaná pěšina jakoby se prodírala jediným volným prostorem zbývajícím mezi ohromnými balvany. Hluboké ticho naplňuje jen ozvěna promáčených šatů šustících o spadané listí. Tu a tam vyrůstá ze skalní průrvy osamělá rostlina. Podivná příbuzenství. Odkud tu bere sílu? Zvědavě obkrouží obydlenou trhlinu prstem. Hmm, vešla by se tam taky?

Po upatlaných stěnách stékají pramínky vody. K jednomu z nich přiloží tvář a lehce povystrčí jazyk. Ve vyprahlých ústech cítí zemitou pachuť, jakoby sem voda protekla zkamenělou minulostí všech lidí, zvířat i kořenů. Zvláštní klid jí stoupá do hlavy a putuje podél páteře až do špiček chodidel. Kdy je teď a jak dlouho tu bude?

Bělostné dlaně ztrácejí v houstnoucí mlze tvar. Jsou tam ještě vůbec? Jejich hmota jakoby postupně zarůstala do okolního mechu. Čím dál těsněji sevřená skaliska. Možná, že cesta dovnitř bludiště je vlastně cestou ven. Ztratit se tak pomalu ve skalách.

Přimkne se zády k vlhké chladivé hmotě. Dříve horce tepající kůži teď dělí od kamenitého povrchu jen několik potrhaných látkových pruhů. Tkáň jako živoucí hlína schopná kdykoli měnit konstalaci. Hrát si v lese na les. Záměrně ztrácet kontrolu.

Někdy se dívky prostě stávají rostlinami a z některých rostlin vyrůstají dívky.
Orchids Get Headaches too from Nela Britaňáková on Vimeo.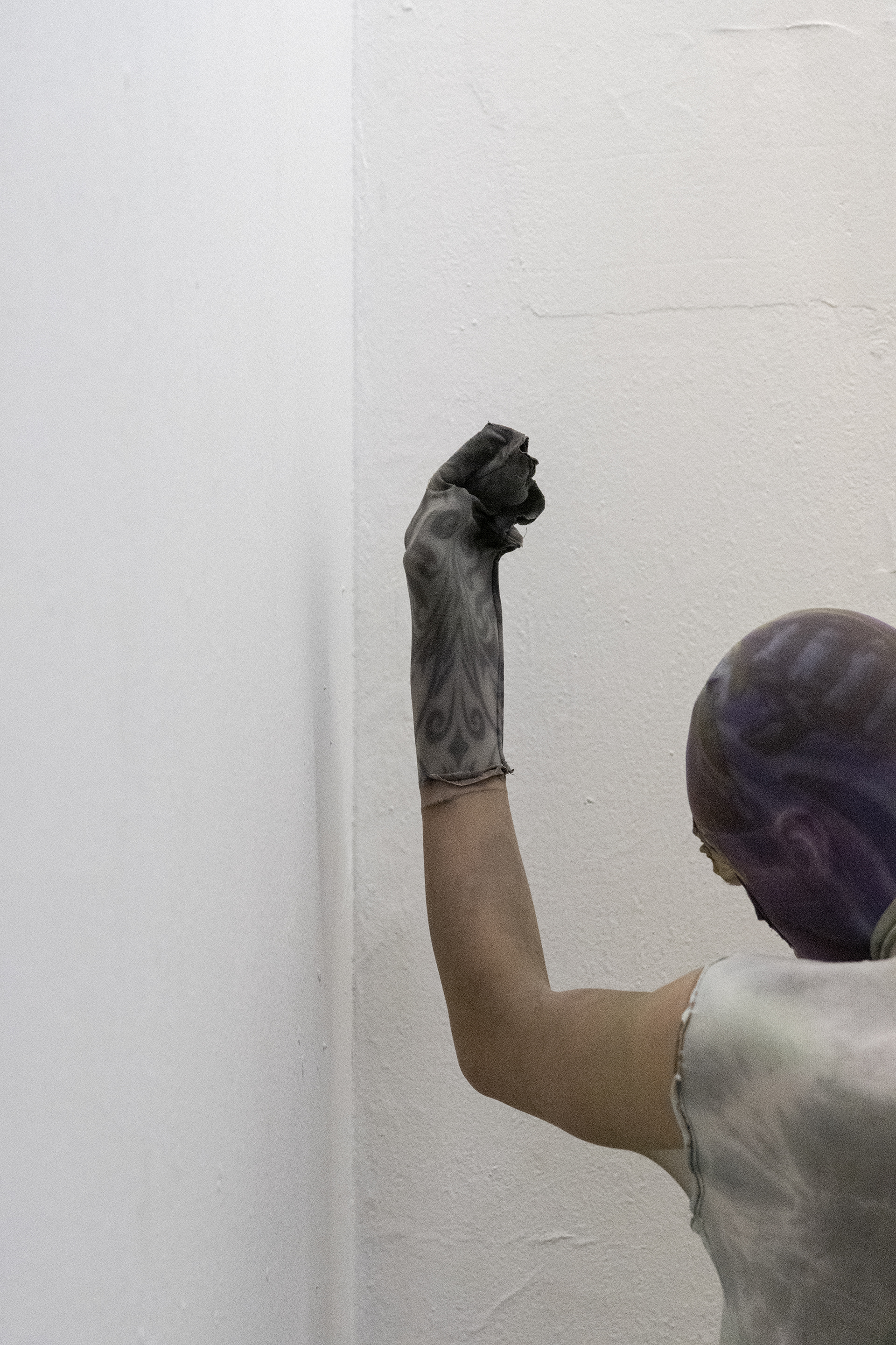 photo Martin Netočný


---
Výstavní program Petrohradská kolektiv z.s. na rok 2020 byl podpořen Státním fondem kultury ČR, Magistrátem hlavního města Prahy a Městskou části Praha 10.

Exhibition program Petrohradská kolektiv z.s. is supported in 2020 by the State Fund of Culture of the Czech Republic, the City of Prague, and the City District of Prague 10.