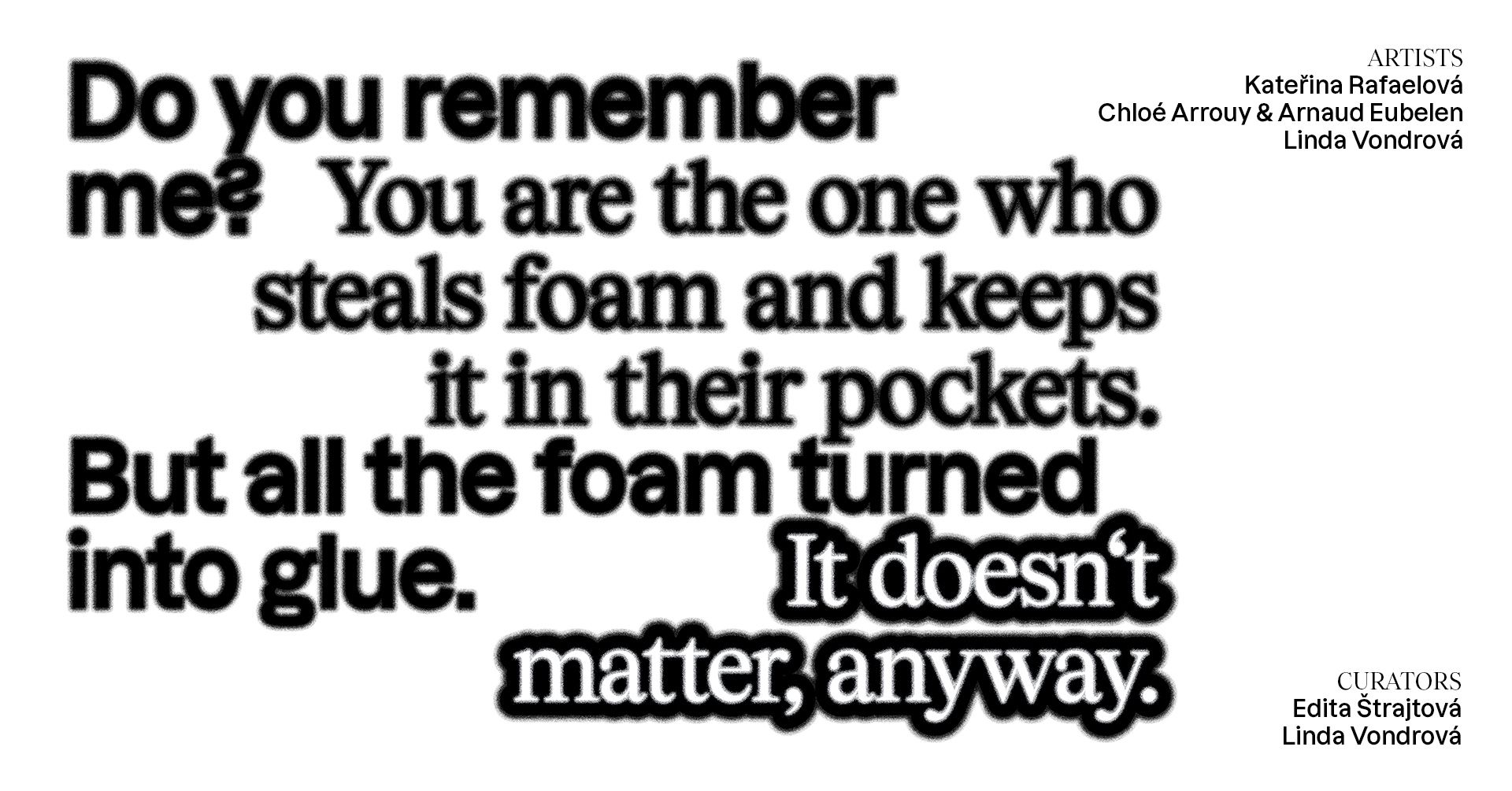 It doesn't matter, anyway.
01. 11. - 02. 12. 2022

otevření výstavy / opening
31. 10. 2022 18:00/ 6PM


jednadvatři gallery,
Petrohradská 13,
Praha 10

Otevírací doba / Opening hours
Po-Pá 17-22/ Mon-Fri 5-10PM



Kateřina Rafaelová
Chloé Arrouy & Arnaud Eubelen
Linda Vondrová

curated by Edita Štrajtová & Linda Vondrová

text by Linda Vondrová
graphic design by Martin Czeller (Lobster)





Come and join us for the opening night of this year's last exhibition at Jedna Dva Tři Gallery. The exhibition cycle concludes in the sentence "It doesn't matter, anyway." that it dismissive yet somewhat soothing. We are looking forward to showcasing works of Kateřina Rafaelová, Chloé Arrouy & Arnaud Eubelen and Linda Vondrová. The exhibition is yet another collective experience within the individual framework of the art scene. Curated by Edita Štrajtová & Linda Vondrová. On the opening night, a live show performed by Prague-based musician Bilej kluk will take place at 8PM. Prepare for your new celebrity crush.
---

Provoz kulturních aktivit Petrohradská kolektiv je v roce 2022 finančně podpořen Ministerstvem kultury ČR, Magistrátem hlavního města Prahy, a Městskou částí Prahy 10.

The production of the cultural activities of the Petrohradská kolektiv is financially supported in 2022 by the Ministry of Culture of the Czech Republic, Municipality of the City of Prague, and the Municipal District of Prague 10.